Hi guys! So the first post here is going to be about craft swaps. I'm part of a forum (craftster.com) where themed craft swaps take place. Right now I'm in 4: Pirates Of The Caribbean, Brothers Grimm, Japanese Cuteness & Ongoing Wish Swap 72. I've already posted the packages for the first 2 so I thought I'd share what I made for them.
BROTHERS GRIMM SWAP
I made this based on 'Rosebud' which is basically Thumbelina. The base is a chipboard coaster covered in green and white checked paper. The flowers are made of patterned paper (I bought these from Dunelm Mill). The flower itself is felt which I hand stitched together and glued onto the base. In the center is a little doll that can be removed. She is made of pipe cleaners, a pompom and felt as well as two brown beads for her eyes. All in all this took me just over 2 hours to make as I had no patterns to work with, only an idea.
I think she turned out rather nicely though.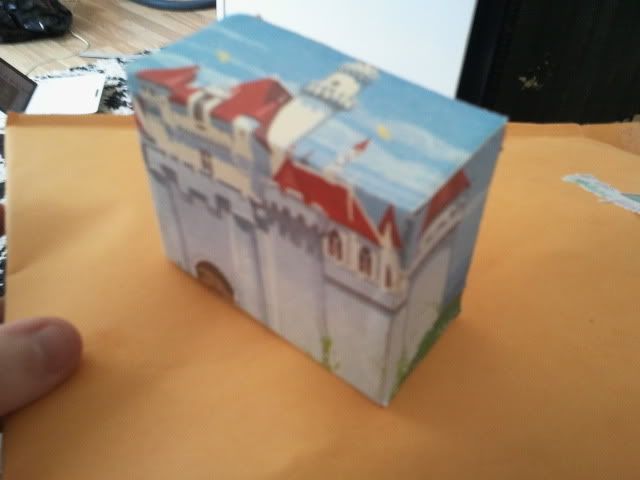 The two pictures above are of the same miniature I did on the theme of 'Cinderella'. The outside of the box is cut from a book of Grimms Fairy Tales although it's not actually Cinderella the castle still fits well with the theme. Inside I glued white paper for the ceiling and created a chandelier from beaded trim. The walls are a pretty red and white printed paper whilst the floor is wood-patterned paper. Around the edges I glued lace trim. The shoe itself is a piece of clear plasting from some sort of packaging. The silver outline is from a border sticker that I just reshaped as I stuck it down.
Finally I made a bookmark out of thick patterned card. I cut out twelve shoes for the 'Twelve Dancing Princesses' and attached six to each side using foam pads. I think the overall effect is quite nice.
PIRATES OF THE CARIBBEAN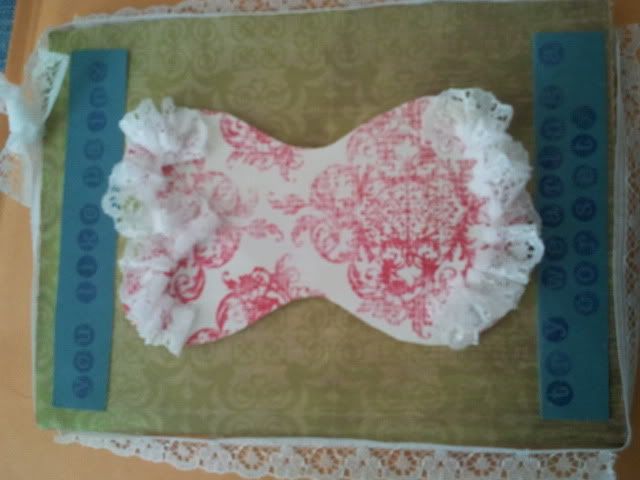 I started by making something based on their favourite quote "You like pain? Try wearing a corset." I covered a piece of cardboard in green pattered paper an cut a corset shape from the same paper used in the 'Cinderella' miniature. The quotes were stamped onto blue card and double-sided-taped into place. I gathered the lace trim using thread and carefully glued it onto the corset for more detail. Around each edge of the board is a piece of lace trim to finish off the look.
I'm rather proud of this tiny Captain Jack Sparrow as he is only about the size of my first finger. As with the other figure he is made of a pompom, pipe cleaners and felt along with beaded eyes. He took around 2 hours to make as his clothes are all hand stitched. I think he looks quite charming as a tiny little figure to sit on your desk.
Lastly I made this elasticated beaded bracelet. The colours are based on her three favourites which I think go well together. The charm is a scrabble tile with her first name initial. I glued this onto a small silver tube bead so it could sit on the back of her hand as she wears the bracelet.
So that's all for now folks, stay tuned for more swap goodness when I get my packages from both of these swaps and to see what I'm sending other partners.
Happy crafting,
xx AmyLou xx