Hi guys,
So I thought I'd share what I've been making. I got obsessed with beaded jewelry with charms... Seriously, I made all these over 2 days which is crazy. Actually, I made them to sell so if you see anything you like drop me a comment here or an email to

alholmes09@gmail.com

and I'll happily sell them to you. I'm in the UK so shipping prices will depend where you are but I combine postage so it's not going to be too bad :)
£10.00
This bracelet took me sooo long to make so I think the price is very fair. This is a spiral and bead bracelet with clasp fastening. The way it moves on the wrist is very pretty indeed.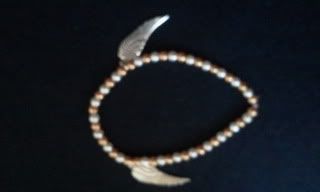 £5.00
This gold and pearl coloured bracelet is elasticated for a comfortable fit. The tibet silver wing charms sit on either side of your wrist nicely.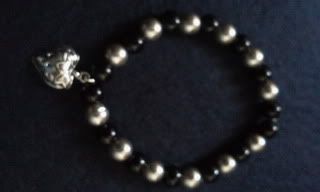 £6.00
Chunky silver and black beads really set off this tibet silver strawberry charm nicely. Again this is elasticated for comfort and will easily fit a larger wrist as well.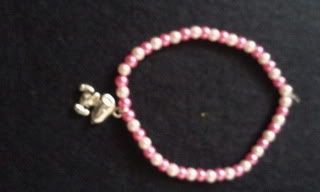 £5.00
This bracelet is one of my favourites. The beads are two shades of pink and it has a pretty Snoopy charm in tibet silver. The way the light reflects off the beads draws attention to this pretty bracelet.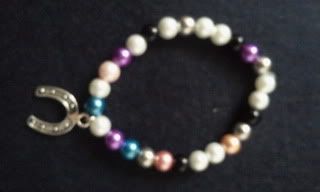 £6.00
Any horse-lover would adore this as a gift. The chunky beads are arranged in a whimsical manner with no set pattern so you see something different every time you glance at it. And the large lucky horse shoe charm makes this an eye-catching item to have.
£3.50
These earrings are so darn cute! Little handbag charms on a short twisting chain would be perfect for day or evening as they are simply silver and completely elegant as well as being fun at the same time.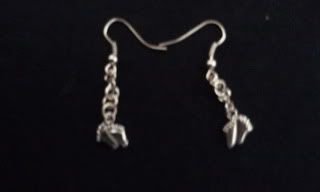 £3.50
These earrings come with a little piece of info on me, in a way. They were inspired by the tattoo I have on my back and as soon as I saw these charms I had to make the earrings! The chain is longer on these as it adds drama to the small footprint charms. Oh so cute!
Shameless plug for my crafts but hey it's my blog hehe ;) I'll update soon with some more jewelry or things I want to make in the future.
Happy crafting,
xx AmyLou xx